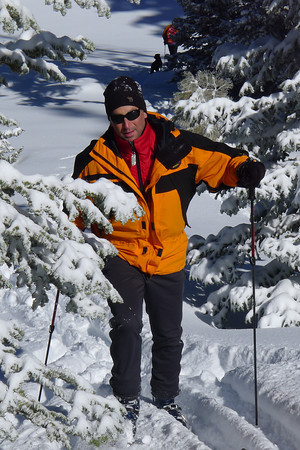 2019 Winter FAQ
Major update: As of 2:00 PM on Friday January 18th:

1. The road to Nordic Base is open.
2. There are Porta-Potties at the parking lot.
3. There are two trash bins in the parking lot.
4. There is approximately 2 feet of snow on the ground.
5. We have permission from the Forest Service to "go into service", so we will be patrolling tomorrow!

We are affected by the government shutdown and are not currently "in service".

But we have received a number of questions of general interest and will attempt to answer them here.

Are there outhouses at the parking lot at Nordic Base?

No. Those did not get installed prior to the shutdown.
There are currently portable toilets in the parking lot at Nordic Base, at the "Y" at the base of the mountian, at the McGill Campground, and at the Pinos Campground parking area.

Are there trash bins at the parking lot at Nordic Base?

No. Those did not get installed prior to the shutdown. Please pack all trash out.

There are two trash bins in the parking lot at Nordic Base.

If ski patrol is not there what do we do if someone gets hurt or lost?

Find a place where your cellphone has coverage and call 911.

I am planning to head up there tomorrow with my family. I just wanted to make sure the roads were open. Is anything affected by the shut down? How much snow is on the ground?

Since we are not in service on the mountain, our knowledge of the road is limited to what is posted on the Kern Roads status page.
Road is currently open. You should have chains in your car anytime you are traveling in snow country during winter.

We can infer when it has been snowing by looking at our weather station page. But we have no way of knowing how much snow is actually on the ground at present. As of 1/18/2019 we suspect that a couple of feet has fallen during the week but that at least some of it was washed away by the rain we got yesterday. Report at midday on 1/18/2019 is that there is approximately 2 feet of snow on the ground.

As stated above, we are "out of service" for the duration of the shutdown. Please be safe. Call 911 for emergencies and please pack out all trash.

Is there a webcam at the parking lot where the trails begin?

No. There has been a suggestion to get one installed but budget is an issue. Issues are as follows:

• Insufficient power at present, so upgraded solar system would be needed.
• No current Internet connection, so something would have to be set up.
• And no current funds to pay monthly charges for above Internet.

Maybe someday we will be able to do this but it is not likely in the near future.

Driving front wheel drive van to MT Pinos Nordic Base. are chains required this Sunday just to go to parking lot thanks.

Chain control decisions are usually made by law enforcement, specifically the California Highway Patrol. Those decisions are often based on conditions observed on each morning. At this time we don't know what the chain control situation will be on any given day. You should always have tire traction devices in your vehicle when driving in the mountains during winter.

Will the road be plowed and open on Saturday morning?

Again, we don't know. The best bet would be to check the Kern Road status page.
Road is currently open and no new snow is forecast before tomorrow.

We are aiming to sled at Mt Pinos on Sunday morning. What do you estimate the base at, 12 inches?

Again, since we are not on the mountain during the shutdown, we don't know. There is approximately two feet of snow on the ground.

I'm interested in taking a group of 16 snowshoers to do Knoll Loop / Harvest Trail. Is there any sort of permit I need to obtain in order to do this? I provide all their gear/equipment.

We've not been asked this question before so are unsure of the correct answer. Permit requirements, if any, will be managed through the Forest Service which, except for skeleton fire fighting and law enforcement personell, is closed during the shutdown. An authoritative answer will need to wait until the shutdown is over.
—
Posted on January 18, 2019
Updated on January 20, 2019
For older blog items see our blog page