Mt. Pinos Maps
Printed Trail Map
Trail maps are available when Nordic Base is staffed for a modest donation that helps defray our cost to produce and to assist us in purchasing first aid and rescue supplies. A low resolution scan of the map available at Nordic Base is shown here.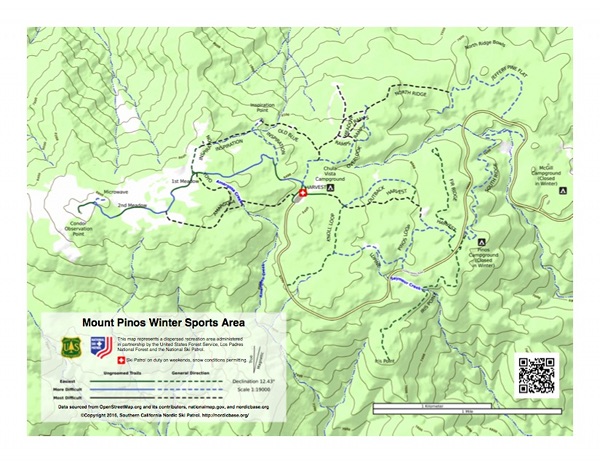 Maps for Smart Phones
Avenza Maps (formerly Avenza PDF Maps) is available for iPhone, Android and Windows phones. Maps can be purchased (many are free) and downloaded when you have a low cost data connection and then used later when you are "off the network". You can locate your position on the map using the GPS functions on your phone and determine things like distance and bearing to the place(s) you would like to go.
---



Mt. Pinos Winter Sports Area

This is a more detailed map than the printed version above and shows the same information as the large map we display outside Nordic Base when we are in service. Purchase of this map will assist us in purchasing first aid and rescue supplies.
---
---
---
Online Trail Map
The patrol is contributing trail information to the Open Street Map (OSM) project so maps that use OSM data can show our trails.
The Open Snow Map site is using data from OSM to generate a ski maps, including for for Mount Pinos. And the Open Snow Map project has a free add on to OsmAnd. OsmAnd is a smartphone map which uses the Open Street Map project's data. So this is another way it is possible to use your smartphone as your Mount Pinos trail map.
Topographic Maps
Mt. Pinos is covered by two USGS topographic maps with the Cuddy Valley quadrangle covering area to the east of the Chula Vista parking lot where Nordic Base is located. The Sawmill Mountain quadrangle covers the area west of the Chula Vista parking lot including the summit of Mt. Pinos. Quadrangles can be downloaded for free from the National Map web site run by the U.S. Geological Survey.
Commercially produced maps are also available from vendors like MyTopo. One map for Mt. Pinos available through MyTopo is at http://www.mytopo.com/review.cfm?mytopoid=8797654E53
Other Map Resources
CalTopo
The National Map website Topo Maps for Anywhere (commercial site)